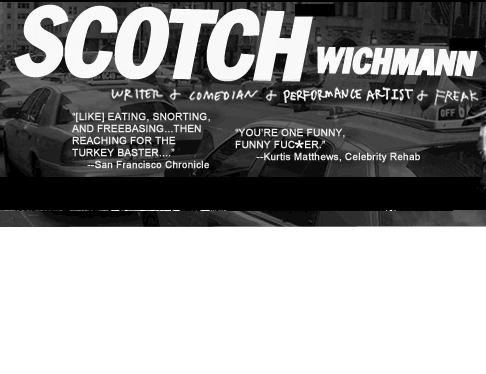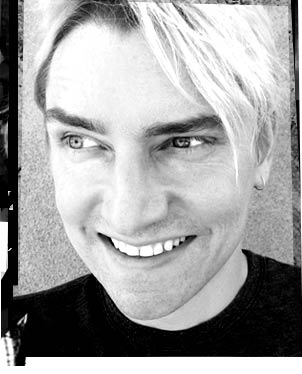 Biography
(PDF)

Acting Résumé
(PDF)

Comedy Résumé
(PDF)

Performance Art Résumé
(PDF) &
Manifesto


My TV series pilot script The Occultist was a Semi-Finalist in the Summer 2021 Los Angeles Screenplay Awards!
The Occultist was a Finalist at the 2021 Los Angeles Int'l Underground Film Festival!
My film script Dark Silo co-authored w/KayDee Kersten wins Best Original Screenplay at the 2020 Burbank Int'l Film Festival!
Rattle Rattle, a short film I wrote & directed in 2020, was an Official Selection at film festivals across the country
Shia LeBeouf's plagiarism of my work gets a mention in This Is Not a Copy: Writing at the Iterative Turn (p.3) by Kaja Marczewska, 2018
The poetry generator I made gets mention in Noodle, Noodle, Cat, a 2017 London PhD dissertation
San Francisco's 7x7 magazine featured a great photo from my book tour performance at Mermaids Tattoo Studio, February 16, 2016
LA Weekly calls my old performance gang Wet The Hippo "LA's Craziest Improv Show" — I'll take it! Los Angeles, August 18, 2015
My novel's video trailer (which I directed) wins "Most Bizarre" award in BookReels.com annual contest! — June 15, 2015
On air with American nihilist Elisha Shapiro on The Po Show: Elevating Creative Culture with host Polina Hryn in Hollywood, CA, July 11, 2015
My novel won the Silver Award for Best New Voice in Fiction from the Independent Book Publishers Association! April 21, 2015
Two Performance Artists is "madcap...the chaos, danger, absurdity, and insanity keep ratcheting up" —Publisher's Weekly, December 22, 2014
Letter from The Smithsonian—the museum is not interested in adding my #dicktemp penis thermometer to its collection, November 12, 2014
Interview about writing & performance in the art journal Big Red & Shiny, by Heather Kapplow, Vol. 2, Issue 21, June 16, 2014
Two Performance Artists wins Bronze Medal in the 2014 Independent Publisher Book Awards! Independent Publisher, May 6, 2014
Seattle's amazing Off Paper literary journal asked me to write about my first hero, and I chose KISS, April 29, 2014
I was chosen to represent CA's first Bookstore Day alongside Dave Eggers & Don DeLillo! thisweek@ucsandiego, April 24, 2014
Broadway World recaps my novel with a mention of my Shia LaBeouf performance-protest
Received a nice mention from my alma mater in UC Irvine Magazine, Spring 2014
Interview about my novel, art, and creativity with Kill Radio host James Gautier, Kill Radio, Los Angeles, April 6, 2014
Article in the Fresno Bee about my novel and performance art, by Rick Bentley, April 5, 2014
On-camera interview with Artful Undress hosts Kira Pandukht and Polina Hryn on my novel, Shia LaBeouf, and creativity, March 22, 2014
Interview with journalist Jasmine Broderick of KPFK/Pacific Radio on performance art and my Shia LaBeouf protest, February 14, 2014
Entertainment Weekly interviews me during my performance/protest of Shia LaBeouf's #IAMSORRY PR stunt, February 13, 2014
BookPage says nice things about my novel's ridiculously long title, January 23, 2014
A.V. Club article about Shia LaBeouf's plagiarism of my performance art manifesto, Marina Abramovic's, and others.... January 23, 2014
Kirkus Reviews calls my book "...raucous debut satire...whip-smart prose and a fertile, scabrous comic imagination," December 3, 2013
Interviewed on performance art and my novel by Kira Pandukht and Polina Hryn on their Artful Undress show, October 12, 2013
2013 Hollywood Fringe Festival nominates my troupe WET THE HIPPO and me for BEST COMEDY, July, 2013
"...absolutely hilarious...hallucinatory...." —Colin Mitchell, Bitter Lemons, June 15, 2013
Illustrated in Hot Sex: Over 200 Things You Can Try Tonight by Emily Morse & Jamye Waxman, Weldon Owen Publishing, 2011
Performance serves up "cheeky delights" at the Edinburgh Fringe Festival. Sally Smith in The Skinny, August 2, 2011, Edinburgh, Scotland
Interview with Liz Adelman about the SF Comedy College in Daily Motion , May 24, 2010, San Francisco
Mention in San Jose's MetroActive of Evil Twins (now the Roughhausers) performing, November 11, 2009, San Jose
Appearance on BBC's Find Me The Funny, September 18, 2009, BBC, Northern Ireland
"Meth Coffee" performance experiment gets me banned in the state of Illinois! Coffee Quality Strategies, Andrew Hetzel, July 30, 2008
Maxim features Meth Coffee in its "Emerging Awesomeness" section. Maxim, August 1, 2007, p.27
My Meth Coffee
alter ego
described in "Crank It Up" by Mary Spicuzza,
SF Weekly
, January 24, 2007, San Francisco
Rock 105 — interview with Mark Summers, January 19, 2007, WFYV FM 104.5, Jacksonville, Florida
BrandWeek — interview with Constantine Von Hoffman, January 18, 2007, San Francisco
NBC News — interview with Traci Grant, January 12, 2007, NBC 6 O'Clock News, KNTV-11, San Francisco
"Because You Can't Be Too Wired," BrandWeek, January 10, 2007
Associated Press — interview with reporter Ron Harris on my Meth Coffee experiment, January 10, 2007, San Francisco
Photographed in Compound Fracture by Robert Flynt. Twin Palms Publishers, 1997

"Please Don't Squeeze The Shaman" by Todd Mathews, OC Weekly, November 17, 1995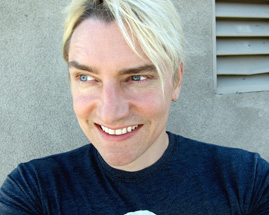 300dpi JPG format in Color (5MB)
or B&W (3.7MB)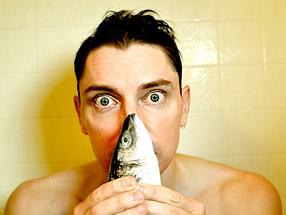 Ice Fish Fur promo photo
Color in JPG format (1.19MB)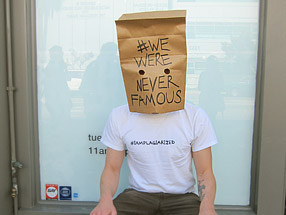 L.A. performance protest of Shia LaBeouf
Color in JPG format (4MB)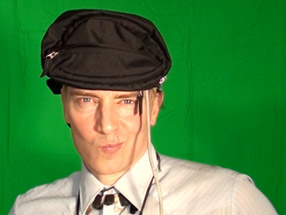 #DICKTEMP "Manny Pack Dance" video frame
Color in JPG format (1.4MB)

scotch wichmann scott wichmann scotch wichmann performance art performance artist actor writer filmmaker comedian san francisco nukekiller performance dada experimental surrealist