Terrorizing The Need To Be Seen
July 21, 2014 12:14 pm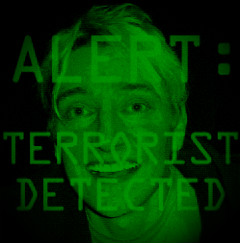 Last week, an interviewer asked me to lay out some of the themes in Two Performance Artists. My first thought was how the novel engages aspects of fame, narcissism, and spectatorship, which we encounter every day in our 'look at me!' culture of reality TV, Facebook, Instagram, and YouTube.
Breaking this down a bit, protagonists Hank and Larry are obsessed with performing, but even more than that, with being watched by audiences. If there's no audience present—or if there's no feedback afterward—it's almost as if the act of performing for them becomes an impossibility. The audience's looking is a required part of the performance calculus because Hank and Larry, Hank comes to realize, see themselves by watching audiences watch them.
This has parallels to the transitive, self-reflexive, and simulated way of 'selfie-seeing' that YouTube and Facebook have given us. Instead of living in the present, more than ever we've come to live by what we document and post from our smartphones. We think about—and perform for—the near future (as opposed to posterity) when posing for shots—and while considering whether what is captured might garner us praise or even fleeting fame. "Hey, Dude, why didn't you 'Like' the photos I posted on Facebook?" We navigate our existence as if by mirrors—by the way we're optically perceived, instead of by what we're actually doing with our own two hands in the right now.
By contrast, Bill—the novel's billionaire who's kidnapped and transformed into a performance artist—becomes content with just performing for himself. Performing alone in his chainlink cage, he transcends the need to be watched because his performance art skills are so good and so fast that he's constantly surprising and entertaining himself, which he finds wholly satisfying. He no longer needs audiences—he is the audience. He becomes like the child content to enjoy what games, rituals, and other surprises leap spontaneously from his unconscious mind.
A July 2014 study published in Science found that 66% of men and 25% of women studied would rather receive an electric shock than be alone with themselves. Perhaps this shouldn't be a surprise. Maybe we've come to rely so much on seeing ourselves through others' eyes that we can't stand being alone.
Our social media followers come to 'know' us through our photos and video—and the greater a person's social media surface, the more confidence we seem to have in cobbling together who we think she or he is. We mentally assemble an online person's identity from bits—even if we haven't seen the person (in person) in years (if ever), and even though any assumptions we make may be based only on fiction, since a person's online content often bears little resemblance to the subject's actual life—photos are heavily directed or doctored, they omit undesirable details, etc. The 'people' we come to know over time are really carefully managed avatars, existing mainly in simulation as we come to treat the map like the territory. We strike beautiful poses in a panopticon of our own making, with each of us serving as both prisoner and jailer.
There's pressure to join the simulation—to have an online social media identity. How else will other 'people' get to 'know' the simulated 'you' you're proffering? As this march toward total simulation goes on, it becomes systemic, affecting us everywhere and every day—and even becoming necessary for a billion of us to function socially. With its power exerted at every point, it has become hegemonic, a dark force in a new kind of melancholic nihilism of simulated transparency.
From Jean Baudrillard's Simulacra and Simulation (1981):
Nihilism no longer wears the dark, Wagnerian, Spenglerian, fuliginous colors of the end of the century.... The universe, and all of us, have entered live into simulation...in a bizarre fashion, nihilism has been entirely realized no longer through destruction, but through simulation and deterrence...it has passed into the transparent, falsely transparent, operation of things. It is this melancholia of systems that today takes the upper hand through the ironically transparent forms that surround us. Melancholia is the inherent quality of the mode of the disappearance of meaning, of the mode of the volatilization of meaning in operational systems.... Everywhere, always, the system is too strong: hegemonic.

But, writes Baudrillard, there's hope in rebellion:
This does not resolve the imperious necessity of checking the system in broad daylight. This, only terrorism can do. It is the trait of reversion that effaces the remainder, just as a single ironic smile effaces a whole discourse, just as a single flash of denial in a slave effaces all the power and pleasure of the master. The more hegemonic the system, the more the imagination is struck by the smallest of its reversals.
When I read these quotes for the first time, I thought of the film Tron, where the Master Control Program detects something is out of place somewhere inside itself—and of course, the something turns out to be 'terrorist' and software programmer Kevin Flynn running amok.
The more hegemonic the system, the more the imagination is struck by the smallest of its reversals. Holy shit, that's a powerful idea. If that's not a license for every artist to terrorize every misguided, unethical, and inhumane hegemon, I don't know what is. Just ask the scrotum-nailing Russian. He was a 'terrorist' too, without a doubt.
And that's how I partly envisioned Two Performance Artists: a story about what happens when "selfie syndrome" infects artists...but also, how performance art can redeem by making 'terrorists' out of Hank and Larry, who bring Bill's hegemonic power crashing down.
Filed under
Book Tour
,
Performance art
,
Rants
,
Writing
|
Post Comment
|
Permalink