Trust This Face? Hm…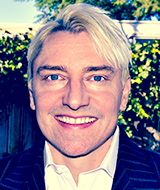 After 2 long years and 160,000 scholarly words written, my Cybersecurity M.S. degree from the University of Maryland is officially done!
I met a ton of smart people (including a Ph.D. hunting for extraterrestrials), debated national security policy with 3-letter agency spooks, and learned many scary things I'll be writing about on my cybersecurity research blog (countercastle.com) when I'm not busy destroying art galleries with rabid dance moves and razors in my panties (yep, I did that).
With school over, I'm officially returning to freakyland, but in both the creative and security realms now. So, look for more performances, a one-man show (finally), and short films as I experiment more with Hollywood. And trust that performance art methods will also spill into the cybersecurity domain, where I'll be researching new and (hopefully) unpredictable methods for subversion.
Don't let the coat and collar in my photo here fool you — I was naked from the waist down. (Still am).