Two Performance Artists Wins Bronze Medal in 2014 Independent Publisher Book Awards!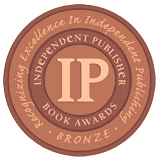 OMG, WE JUST HEARD THE NEWS: Two Performance Artists just won a Bronze Medal for Best Regional Fiction in the 2014 Independent Publisher Book Awards!
The novel is set in San Francisco's rough Tenderloin neighborhood, which is where I started writing the book in 1999. In the four-block walk between my apartment and Polk Street, I'd pass liquor stores, pan handlers, people of every color, a blowjob in progress, art galleries, a vet in a wheelchair, mom-and-pop restaurants with flies buzzing in the windows, psych ward escapees, a gay salon, the rich, the destitute, software geeks on kick scooters, a gaggle of transvestite prostitutes checking their hair, drug hustlers and drunks…it was beautiful.
The awards ceremony will be held May 28 in NYC just a day before the kickoff of the BookExpo book convention. I can't wait! Thanks so much to everyone who helped make this little dream come true!
***UPDATE: The ceremony was a blast! Held at NYC's historic Providence space—it was once a church, then became a lavish recording studio where Sinatra, Hendrix, Streisand and Stevie Wonder all recorded—seeing my name in lights was surreal. There were two floors with views of the stage, but not enough guest tables, so a lot of attendees had to stand around with their plates of food, including the people on the second floor, who thought it was a good idea to balance their plates on the balcony railing. Every few minutes I'd see a cracker or piece of cheese fall onto the head or plate of a guest below. That—and being there with my hilarious & gorgeous wife—were my favorite parts of the night (you can see where my priorities are, I guess—haha).