Another Crazy Year
Hi Friends! Oh man, my 2019 was a wild ride. First, Dark Silo, the screenplay I co-wrote with my creative partner in crime KayDee Kersten, was a semi-finalist at the NYC International Screenplay Contest — hopefully we'll see it in theaters soon! We also wrapped production on Rattle Rattle, a surreal short film we shot in our Burbank garage that was a semi-finalist at both L.A.'s IndieX and Indie Short Fest film festivals—not bad!
There was plenty of performance art too. KayDee and I co-produced Not An Exit, a sold-out evening of performance art in downtown Los Angeles in July with an amazing lineup of artists. And, I performed a couple of pieces at 5×5, the monthly performance series at Ventura's amazing Art City Gallery.
My favorite solo piece this year was John's Arrow, which was both a performance and a magic spell designed to help heal my hospitalized mentor, John White.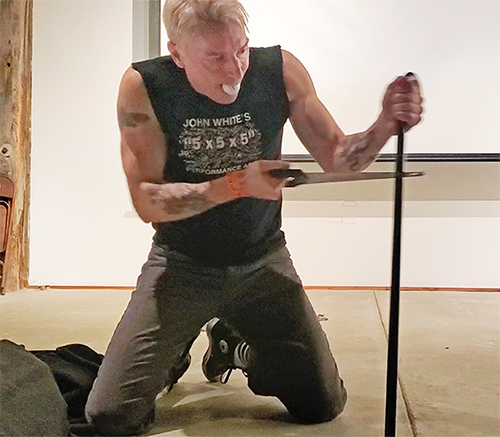 Although I've been a practicing occultist since I was a kid (Norse magic, shamanism, chaos magic, you name it), this was my first public magical act that incorporated actual magical intention and charged tools, including crystals, sigils, magical movement, spirit water, and a felt blanket (the latter which was a nod to performance artist Joseph Beuys, who was obsessed with both felt and energy).
I'm indebted to film director and occultist Alejandro Jodorowsky, whose book Psychomagic really opened my eyes to the possibilities of overtly mixing public performance with magical practices. When I look back at my performances over the past decades, I see plenty of shamanic and witchy elements (both on stage and in my own internal approach to performance), but it was Jodorowsky's book that convinced me to bring spooky+healing to the forefront. After the Arrow piece was over, several audience members approached to say that the space's air had taken on a strange charge — and even better, my mentor's recovery seemed to accelerate over the days that immediately followed. Really, who can ask for more than that? Thanks, Jodorowsky!
In 2020 I'm looking to finish 2 more scripts that are on deck, produce another performance art night in L.A., and explore psychomagic further with more public spells geared toward healing (which I hope will be useful in what is shaping up to be a truly insane election year). If you'd like to receive a note when these and other happenings are happening, join my mailing list — and above all, have an amazing New Year!