Sprinting Toward Film
After a year at the typer with my creative partner (the genius writer-producer KayDee Kersten), a new feature-length screenplay has been born: 120 pages of FBI thriller wrapped around a conspiracy I think might be bigger than JFK, King Jr., Marilyn Monroe, Kurt Cobain, Vince Foster, and the fake moon landing combined.
Even as a kid I wanted to be a writer, but a screenwriter especially, so my life has felt like one long sprint toward film in epic slow motion, a dichotomy paradox interrupted by performance art, standup comedy, beer, karate, hilarious occult practices, shitty jobs, strange ladies, and other adventures required for a screen scribe to possess any depth.
If I could change anything, it might be that my script arrived a decade sooner so my favorite film professor in college, the brilliant Anne Friedberg, might've had a chance to read it. A contemporary of Yvonne Rainer and wife of screenwriter Howard A. Rodman, Anne was a sparky postmodernist full of humor and encouragement who said to me once, I have no doubt you'll get there, which was pretttttty much the best thing you can say to a boy who spends his days dreaming. Anne also confided that she'd always wanted to be a Vegas showgirl, so she'd be pleased to know our new script is driven by a smart female protagonist — and also that I've been known to dress up like a showgirl myself. Here's my, er, most successful attempt right before a West Hollywood bar crawl a couple of months ago. So…would you do her? Hahaha: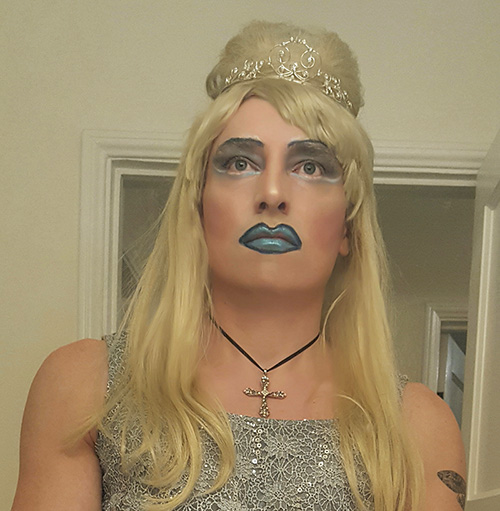 In December, I had the honor of opening L.A.'s 18th annual Nihilist Film Festival with its traditional blessing of TVs and other electronic devices. With America's funniest nihilist Elisha Shapiro presiding, I blessed a TV and every cellphone in the crowd using Luke Skywalker's long lost arm from Empire Strikes Back: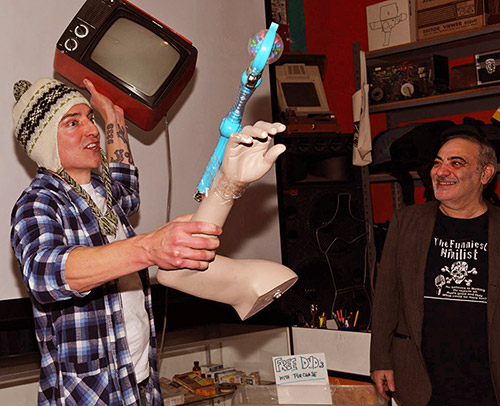 Finally, in February I dusted off Rattle Rattle, a dark fairy tale piece I originally performed in 1992. Aesthetically, I've always been a purist who prefers not to repeat performances so each can stand alone in time and space. (Full disclosure: while I love this purity, it can be exhausting, since 2-3 bookings in a row means having to create multiple pieces from scratch in a very short time, and sometimes my muse is drunk and slow to show up). In Rattle Rattle's case, I allowed an exception to my rule because with the world the way it is right now (very fucked up), I thought maybe the audience could use some magick drawn from creative energies in my past (sort of a Back to the Future shamanic recipe of my own Marty McFly design), and it worked, I think, judging from the crowd's happy reactions.