Film Review of Matthew Barney's River of Fundament: A Performance Art Dream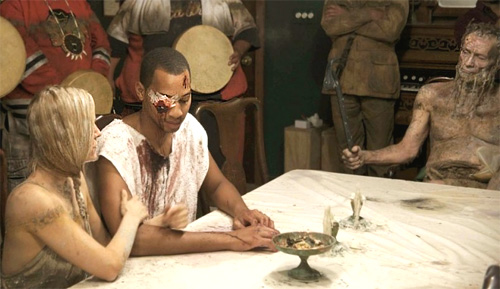 Last Saturday I attended UCLA's West Coast unveiling of Matthew Barney's River of Fundament, a 6-hour death-and-reincarnation tale of a writer caught up with Egyptian gods that was inspired by Norman Mailer's 1983 novel, Ancient Evenings.
Fundament is is an orgiastic adventure in every sense of the term. Egyptian shades of Kenneth Anger, David Lynch, David Cronenberg, Luis Buñuel, Joseph Beuys, Rudolf Schwarzkogler, Carolee Schneeman, The Kipper Kids, and The X-Files are smelted down into molten imagination that comes running out of every human orifice to drench viewers in color, carcass, and fuckable cars before a noxious, farting pantheon of dug-up-and-still-decaying Egyptian-god-cadavers eagerly lapping up the leftovers.
The story—whose summary could easily expand to fill a novel all its own—sets a dead Mailer to reincarnate himself three times into different human bodies through the womb of his wife, possibly in a veiled examination of his own success and failings as a writer. Each reincarnation starts with Norman surfacing in an underground sewage river of "fundament." Soaked in feces, he emerges to slosh up a staircase to his Brooklyn apartment above, where his own funeral wake is in full swing with New York literary types, improvising musicians, and caterers.
Each ascent of the staircase finds the wake winding down further, if not decaying; the party's culinary centerpiece—a roast pig on a spit, whose tongue is devoured by a sickly-pale Paul Giamatti—is polished off by maggots at the end, while remaining guests fall under hypnagogic spells that have them moaning and chanting, perhaps as a byproduct of the Egyptian magic all around. Meanwhile, the river-and-apartment storyline is paralleled by a second tale, in which Norman is imagined as three automobiles, each of which undergoes its own magnificent transfiguration about town.
Both narratives are interwoven with Egyptian lore, with Norman's cohorts mapping to Isis, Osiris, Horus, and other gods, and symbolism that is layered impossibly deep: ibises, serpents, vultures, beetles, was scepters, hieroglyphs and cartouches, belled pectorals, daggers, Hathorian cattle and horns, hidden passages both vaginal and excretory, stairwells joining heaven to a shitty hell, and of course, phalli in every shape appear against walls of gold, avalanches of fire, and heads of lettuce.
Mobs of Ph.D. candidates have no doubt already trashed all previous dissertation ideas in favor being the first to publish on Fundament, even though, sadly, not enough has been written about Barney's latest opus in the press.
Nearly all critics agree that the work is epic in scope, with moments of beauty that match or rival—even if only fleetingly—the most gorgeous and unique imagery ever set to avant-garde celluloid. In the same breath, many also dismiss the film as simply too long, or too inaccessible—even more so, some say, than Barney's earlier Cremaster Cycle—or that the brown rivers of offal, shit-encrusted gods, and fetid sex with puckering anuses pressed against the lens are too unappetizing to digest.
I haven't read Mailer's Ancient Evenings yet, so I can't attest to Fundament's fidelity there, but I can say that critics who evaluate Barney's new effort only against rubrics that dictate films must be linear, or only make literal sense, or feature less noxious scenes, or tie up endings with tidy totalizing ribbons, have embarked on the journey with a fatal first misstep that nearly guarantees they'll miss the film's performative and pedagogic qualities.
(These same critics would probably render similar judgments against Un Chien Andalou—even though Buñuel's masterpiece admittedly soothes by being five and a half hours shorter in length—and should therefore save their ink when it comes to surrealist works they don't seem to want to understand ab initio, since digging for structure, meaning, relevance, and art history context is strenuous).
But it doesn't matter, because, really, how can anyone criticize what amounts to a dream?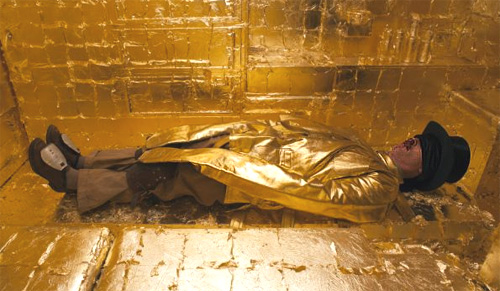 And a dream Fundament is—a performance art dream. Sure, it's interspersed with some of narrative film's familiar codes, but even those codes break down. The "narrative" of "normal" guests attending a wake collapses into chaotic scenes of their moaning, drooling, and being generally oblivious to the scatological Norman-narrative being draped across them, so even "normal" finds itself touched by Egyptian magic, which brings spontaneous opera, object-making, and occasionally violent delusions to anyone in its vicinity.
Freud marvels in his Der Dichter und Phantasiere at the writer's magical ability to dissolve his/her identity into a work—to become all of the characters and the spaces in-between—and Barney manages this in spades, especially with regard to the in-between. Distinctions between performance art and film, object and subject, and the utilitarian and symbolic dissolve, just like the apartment walls in Fundament that double as membranes for gods to penetrate. In a page right out of a J.G. Ballard map, Barney pushes through into supposedly empty, useless areas—our primordial shit, our intellectual detritus, our industrial graveyards, our dead—using self-made vehicles that are in-between themselves, since that's the kind of magic required to cross the river from the hell of rigid symbolism and (re)tired modes of thinking into imaginary places that are new.
Read around, and you may come to agree that many reviewers don't know what to do with Fundament so far, even though the film provides the answer: namely, that critics need to create their own analytical and expressive vehicles appropriate to what they're reviewing—especially when it's experimental—rather than relying on punctilious categories of genre and medium that are easily off(al)ended. Perhaps we should hire performance artists for the job, since their art specializes in reconciling and synthesizing the surreal with the waking; ask one what we should do with Barney's all-seeing anuses, foil-wrapped cocks, and cars leaking silvery sperm, and I bet answers won't be long in coming.
Images © 2014 Matthew Barney. Text © 2015 Scotch Wichmann.
Tags: ancient evenings, film, fundament, matthew barney, norman mailer, review, river