Two Performance Artists Wins Silver at 2015 IBPA Awards!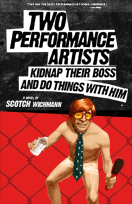 Almost exactly one year since its debut, Two Performance Artists just tied for Silver in the Best New Voice category of the 2015 Independent Book Publishers Awards held in Austin, Texas last week, and copies are flying off the shelves! THANK YOU for this fantastic honor, IBPA! If you haven't grabbed your copy yet, visit your local indie bookstore, or hit up Amazon! If you'd like a signed copy, we can make that happen, too—just drop me a line.
In other news, I've started work on a one-man show I hope to debut in galleries and fringe festivals in the near future, then maybe onto the road. It's part performance art, part filmic, and very autobiographical, with surreal characters dredged from my unconscious, secrets of my day job as a computer hacker, conspiratorial theories, tales of ghosts, shamans, and more. That sounds like a lot, I know, and it is; I'm hoping to go meta with this in a kind of grand unifying theory of creatives, especially performance artists and their ilk. I've wanted to do a feature-length solo show forever, and cannot wait to unleash what's been brewing.
Next: If you're in the area of Ventura, California on May 1, 2015, come to the Namba Performing Arts Space for its 5x5x5 Show, where I'll be unveiling a brand new performance art piece alongside famed performance artist John White, and many others. FREE! Located at 47 S. Oak St.